FNK Steel Industries was established
by Frixos kouletmos in 1986
FNK Steel Industries was established by Frixos kouletmos in 1986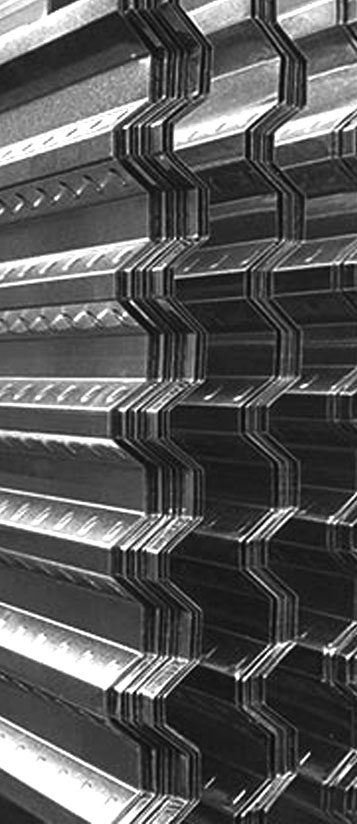 Description & Technical Characteristics
Decking floor sheet is a galvanized profile, trapezoidal in shape and is used to make composite slabs and permanent formwork. This product was first introduced in North America and has expanded its application in many European, countries among the countries are Greece and Cyprus. Due to its high strength, it is suitable for covering large openings with great flexibility in use, in any kind of construction, roof tiles, building floors, lofts, mezzanines, etc.
A special feature in the construction is that the product acts as a bending reinforcement of the slab, which is why in most cases no or minimal conventional reinforcement is needed. The above feature is due to the densely ordered special protrusions.
Important advantages of deck product in terms of safety and health, for construction and technical characteristics are:
Simple process which requires minim amount of construction time
Low cost
Easy to transport
Construction material with seismic resistance and high strength
The upper sole of the steel sheet is reinforced against local bending with an intermediate reinforcement in the middle. There are special ribs in the trunk, which aim at better cohesion of the steel sheet and concrete.
The product is made in thicknesses of 0.80mm, 1.00mm and 1.20mm. The steel used is high quality S350 galvanized with Zinc 275gr/m2. The geometric and inertial characteristics of the profile are presented below, where reference is made to the geometric and inertial characteristics. There have also been tests by an accredited laboratory based on Europeans 3 and 4 and the results provided to all participants.
Geometrical & Inertial Characteristics
Thickness (mm)

Self-Weight

Height to Neutral Axis

Second Moment of Area (cm4/m)

(kg/m2)

(kN/m2)

Sagging

0.80

8.31

0.082

42.20

69.75

1.00

10.37

0.102

36.60 mm

91.83

1.20

12.45

0.122

35.00 mm

112.30
Thickness (mm)

Steel Area (mm2/m)

Ultimate Moment Capacity (kNm/m)

Sagging

Hogging

0.80

1005.56

5.76

5.82

1.00

1270.18

8.41

8.06

1.20

1534.80

11.01

10.22


Wide Range of Sizes and Colours